iRestify Appoints Karl Sowa as CEO

Vivian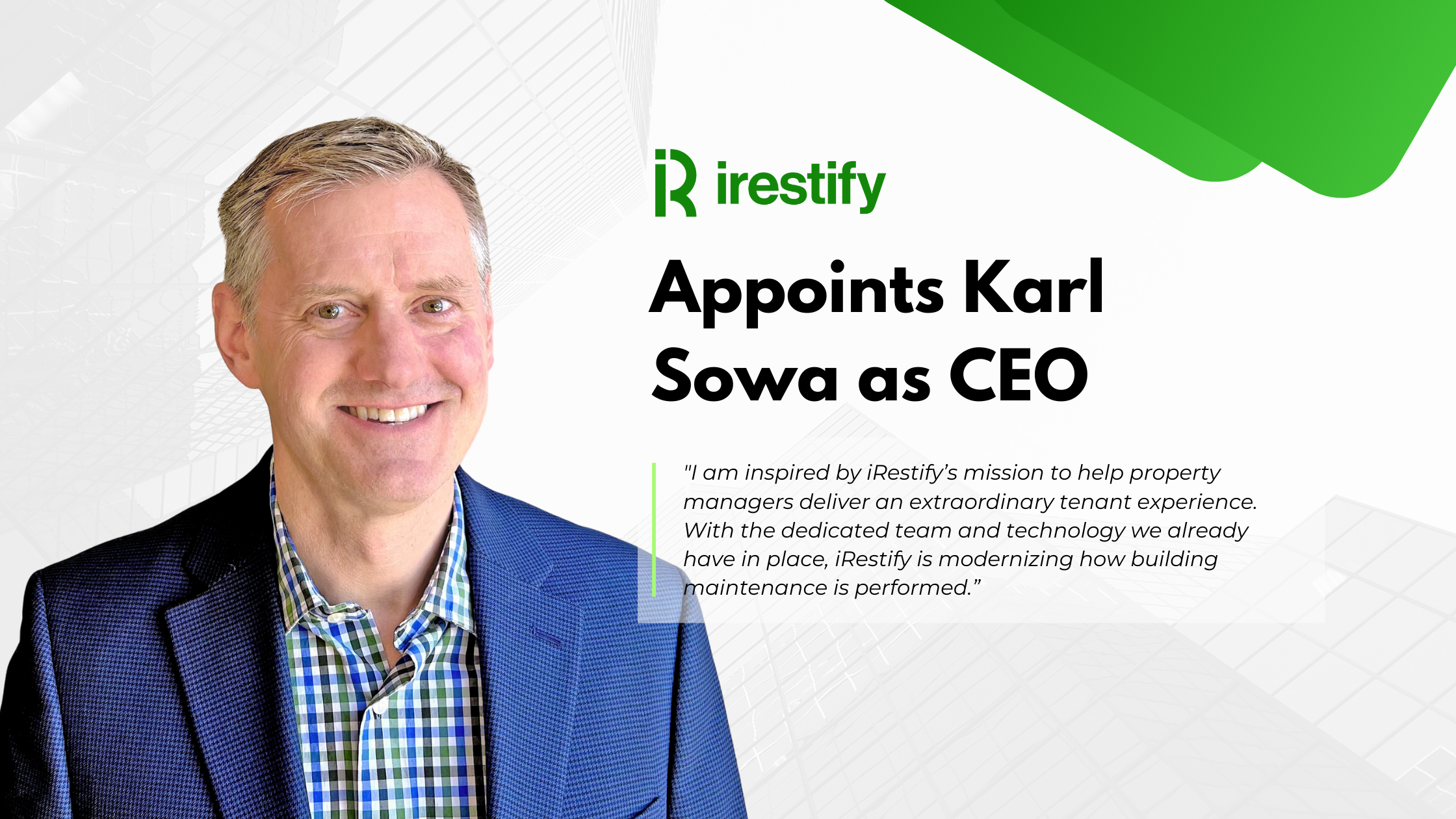 TORONTO, Ontario, May 29, 2023 -- iRestify, a leading provider of cleaning and building maintenance services for office and multi-family properties across the US and Canada, is pleased to announce the appointment of Karl Sowa as CEO. With a proven track record of scaling profitable, high growth technology-driven service companies, Sowa is focused on expanding iRestify to new markets across North America.
Prior to joining iRestify, Sowa held the position of President at TaskEasy, where he helped grow the company from 40 to over 350 team members, with thousands of contractors providing services in over 12,000 cities across the US. He also held officer-level roles at companies including HomeAdvisor, NetQuote and Teleflora. Sowa graduated with a BS in Industrial engineering from Columbia University and an MBA from the Stanford University Graduate School of Business. His experience managing venture-backed technology teams and driving go-to-market strategy will help drive iRestify's growth as the company transforms how building maintenance is performed.
Commenting on his appointment, Sowa said:
"I am inspired by iRestify's mission to help property managers deliver an extraordinary tenant experience. With the dedicated team and technology we already have in place, iRestify is modernizing how building maintenance is performed."
iRestify's client list already includes companies such as Greenrock Property Management, Sonder, Madera Residential, Sterling Karamar, GWL Realty Advisors and more.
As the CEO, Sowa will lead iRestify's strategic direction, focusing on scaling the business, expanding its customer base, and driving innovation.

About iRestify
iRestify is a tech-enabled services provider that helps property managers deliver an extraordinary tenant experience. The company's all-in-one service and technology solution transforms how janitorial cleaning and building maintenance is provided, resulting in a client list that includes some of the largest multi-family residential and office building owners/managers in North America. Currently servicing over 60 million square feet of space in major cities across Canada and the US, iRestify drives measurably higher tenant satisfaction and retention for its large property management clients. Headquartered in Toronto, Ontario, and founded in 2018, iRestify is currently backed by Birchmere Ventures, Converge VC, Gutbrain Ventures, PBJ Capital, Joint Effects, and Export Development Canada. To learn more, visit irestify.com or contact us at media@irestify.com.

Related Links
https://www.irestify.com/
For media inquiries, please contact:
Name: Vivian Carneiro Nunes
Title: Media Relations
Phone: 416-258-7004
Email: media@irestify.com